Breakthrough AI small molecule platform combating chronic diseases with human Anthromolecule™ medicines
About Montai
Over 2 billion people globally are living with chronic disease, driving trillions in healthcare costs and creating an unsustainable societal burden.
At Montai, we are pioneering with AI to treat all stages of chronic disease with human-qualified Anthromolecule™ medicines.
Unlocked from a privileged class of molecules with a history of safe, human exposure, Anthromolecule chemistry offers a potent and safe starting point to develop best-in-class or first-in-class small molecule drugs that address this global challenge.
Our hyper-efficient generalizable ML and aggregation of human-qualified chemistry at industrial scale enables us to predictably discover breakthrough medicines for as many diseases as possible.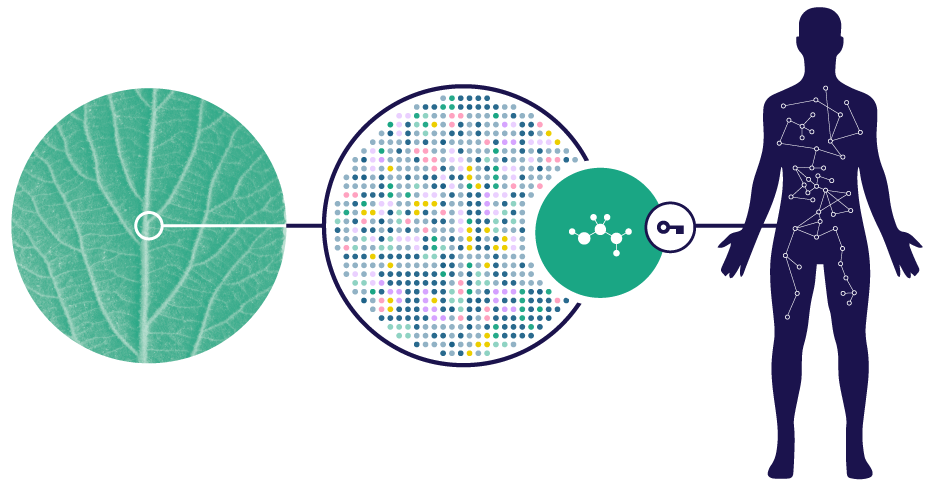 Our Mission
To improve health outcomes for people living with chronic disease, we need to reset the current drug development paradigm.
Cost and time
to develop a new drug

Get to patients — many fail due to safety and toxicity risks

Non-responders and most are
not safe for long term use

Cost for many new
therapies
Our Approach
Predictable discovery of Anthromolecule chemistry can reset the safety-efficacy paradigm.
MOVING FROM SERENDIPITY TO PREDICTABLE DISCOVERY
Drug discovery began as a serendipitous, trial-and-error effort. Then serendipity was industrialized with the introduction of synthetic chemistry and high-throughput screening which enabled us to screen millions of compounds to find potential drug candidates.
We are now creating a new era of predictable discovery led by exponential growth in biochemical data over the last decade and far more powerful computational tools such as scaled graph deep learning models and LLMs. We can now decode the complex language of chemistry computationally and understand the structure-function relationships in any molecule – bioactivity, toxicity, bioavailability, solubility, etc. - to efficiently predict its potential to become a drug. And when we apply these powerful tools to aggregate and then survey the landscape of human-qualified chemistry at industrial scale, we can predictably and hyper-efficiently find the best possible Anthromolecule keys to unlock any biology pathway door in less than 6 months.
HUMAN-QUALIFIED CHEMISTRY AT INDUSTRIAL SCALE
Montai is aggregating the world's largest, fully-annotated knowledge graph of Anthromolecule chemistry - privileged molecules that have co-evolved with humans for thousands of years through exposure to food, herbs, and traditional medicines. There are 100,000+ known today, offering vastly greater chemical diversity compared to the 2,700 approved drugs - with millions more to discover.
Anthromolecule chemistry is already a proven source of chronically-dosed, FDA-approved drugs for many diseases such as Parkinson's, asthma, and heart disease, but has yet to be systematically mined for drug development.
The CONECTA™ Platform
The CONECTA™ Platform is a new drug operating system enabling the predictable discovery of transformative small molecule drugs.
CONECTA combines hyper-efficient generalizable ML, industrial scale aggregation of human-qualified chemistry, and end-to-end automation and integration.
This allows us to rapidly and repeatedly create efficacious new medicines that are safe, easy to administer, and suitable for the broadest range of applications across disease indications and stages of severity.
Our initial therapeutic focus is on small molecule therapies for inflammatory and autoimmune diseases where there is great unmet patient need. Our long-term goal is to develop human-centered solutions for the two billion people living with one or more chronic diseases.
The CONECTA™ pipeline
Montai is rapidly advancing a pipeline of small molecule assets against powerful, validated biological pathways with first-in-class or best-in-class potential across multiple indications in inflammation and autoimmune.
Over 50,000 AnthroGraphs

13 Pathway Maps in 5 major disease areas

1000x efficiency in finding high potential keys for targets
We are focusing on inflammatory and autoimmune disease for our first wave of solutions given the enormous unmet patient needs for efficacious, accessible therapies that are safe for long term use and earlier intervention. Inflammation-related pathways also offer important biological network linkages to broader chronic diseases such as those in metabolism and neurology.
Our mission is to improve health outcomes for as many people as possible to reduce the growing and unsustainable burden of chronic disease.
We are united under a shared purpose of improving health outcomes for as many people as possible.
Meet Our Team
Featured News
Montai Health Appoints Christian Antoni, M.D., Ph.D., as Company's First Chief Medical Officer

Montai Health Adds Industry Leaders to its Board of Directors

Flagship Pioneering Unveils Montai Health to Treat and Preempt Chronic Disease Afflicting Two Billion People Worldwide
Join Us
We are growing our team of leaders, committed to finding breakthroughs to make a difference in as many lives as possible.
View Open Positions
Contact Us
Partnerships

We welcome the opportunity to partner with experts across areas who share our passion for creating Anthromolecule medicines and want to collaborate to accelerate the development of safe, efficacious and accessible therapies across diseases.

partnerships@montai.com

Press

For media inquiries or the latest on research, thought leadership, company news, and events contact:

press@montai.com