Montai is unlocking the power of nature with digital technologies to treat and preempt chronic disease, improving health outcomes for as many people as possible.
About Montai
Over 2 billion people globally are living with chronic disease, driving trillions in healthcare costs and creating an unsustainable societal burden.
At Montai we are pioneering leading edge technologies to create AnthromoleculeTM medicines — unlocked from a privileged class of molecules with a history of safe, human consumption — to address this critical global challenge. By building the world's first Anthromolecule Bioactivity Atlas that comprehensively maps potent connections to all known biological pathways underlying disease, our human-centered foundation can enable the rapid and repeatable development of safe, efficacious, and accessible medicines for as many diseases and people as possible.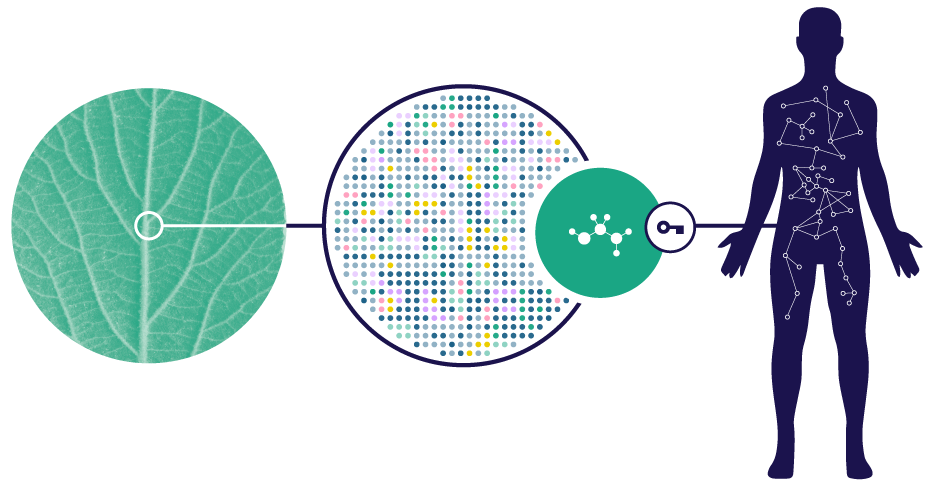 Our Mission
To improve health outcomes for people living with chronic disease, we need to reset the current drug development paradigm.
By unlocking the power of Anthromolecule medicines, Montai can create transformational value for patients and society through accelerated discovery and development, de–risked investments, and more accessible, pathway–modulating therapies safe for long–term use. Our aspiration is to find ways to intervene as early as possible to restore cellular homeostasis and slow or potentially halt disease progression.
Cost and time
to develop a new drug

Get to patients — many fail due to safety and toxicity risks

Non-responders and most are
not safe for long term use

Cost for many new
therapies
Our Approach
Anthromolecule based discovery can fundamentally reset the safety-efficacy paradigm.
A Huge Untapped Opportunity
There is a diverse, untapped chemical source for discovery, including powerful modalities such as small molecules, proteins, lipids and nucleic acids.
There are more than 100,000 known molecules that humans have consumed through foods, supplements, and herbal medicines that can be systematically mapped to create Anthromolecule medicines — with many more to discover, as only a small fraction of the molecules that we consume are currently identified.
Over 40 of these known molecules are already used in FDA-approved drugs as safe, long term treatments for diseases such as Parkinson's, asthma, and heart disease. However, this rich, chemically diverse space has never been systematically mined for its incredible untapped potential to modulate human biological pathways.
A New Human-Centered Paradigm
We are unlocking the power of Anthromolecule medicines by creating the world's largest Anthromolecule Bioactivity Atlas. Our approach will enable the rapid and repeatable discovery of efficacious new medicines that are safe, easy to administer, and suitable for the broadest range of applications from early intervention to long-term use.
Our initial therapeutic focus is on small molecule therapies for inflammatory and autoimmune diseases where there is a great unmet patient need. Our long-term goal is to develop human-centered solutions for the two billion people living with one or more chronic diseases.
The CONECTA™ Platform
The CONECTA Platform is the first discovery platform for efficient, comprehensive, and repeatable mapping of Anthromolecule bioactivity across pathways driving disease.
We are leveraging rapid and ever-growing advancements in the digitization of natural chemistry and human biology coupled with powerful computational tools for linking chemical structure and bioactivity.
This confluence of biotechnologies enables us to build a powerful, one-of-a-kind discovery platform focused on creating medicines that are safe, effective, and more human-centric than ever before.
The CONECTA™ pipeline
The CONECTA Platform has evaluated tens of millions of bioactive connections to validated disease pathways, and efficiently prioritized high potential hits to create the foundation for a robust product pipeline of Anthromolecule medicines.
Over 50,000 AnthroGraphs

13 Pathway Maps in 5 major disease areas

1000x efficiency in finding high potential keys for targets
Rapidly pioneering new solutions, we have an emerging therapeutic pipeline initially focused on targeting pathways that drive inflammatory and autoimmune diseases. We are advancing multiple Anthromolecule candidates demonstrating strong efficacy in preclinical in vitro and in vivo models of disease.
We are scaling and automating the CONECTA Platform to enable rapid and repeatable advancement of therapies across multiple diseases. Our mission is to improve health outcomes for as many people as possible and reduce the growing and unsustainable societal burden of chronic disease.
We are united under a shared purpose of improving health outcomes for as many people as possible.
Meet Our Team
Featured News
Flagship Pioneering Unveils Montai Health to Treat and Preempt Chronic Disease Afflicting Two Billion People Worldwide
Join Us
We are growing our team of leaders, committed to finding breakthroughs to make a difference in as many lives as possible.
View Open Positions
Contact Us
Partnerships

We welcome the opportunity to partner with experts across areas who share our passion for creating Anthromolecule medicines and want to collaborate to accelerate the development of safe, efficacious and accessible therapies across diseases.

partnerships@montai.com

Press

For media inquiries or the latest on research, thought leadership, company news, and events contact:

press@montai.com